Snow and ice all around meant a decrease in numbers – But we had a good service and Brian challenged us about being 'The salt of the earth and the light of the world'

Next Sunday Claire and Co from Moira helped with the music – a big thank you to them.
At the drop – in Sharon did a demo on how to make Trifle, Banoffee Pie and shortbread mmmmmmmmmmm!!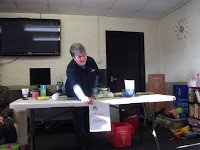 There was a 'Rolling pin' competition between Aggie,Angela, Stacey and Rochella – Aggie's hip action won the day!!!
Wee William was totally facinated by it all – Everybody enjoyed the results and it all disappeared ' like snow of a ditch!'
'Give us this day our daily bread'