Showed the Christianity Explored DVD on the crucifixion at the drop-in on Thursday. Great attention and conversation.
Took the Youth Club to W5 on Friday – They had a real ball!! Amazing just to see the group of young people that God has given us already.
Packed lunch went down a treat!!
On Saturday the centre was opened for a 'Giveaway Shop' – Everything was free – The place was Buzzin!!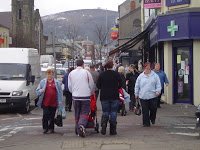 Sunday morning – Easter Sunday – a great turnout – our text was –
'HE IS NOT HERE – HE IS RISEN'


SO TRUE!!


JESUS IS ALIVE!!!